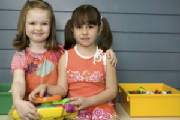 Mission Statement
It is our purpose to provide high quality services to children and families to empower them to meet their individual needs. We promote school readiness through assessment in all areas of development, and we maintain partnerships with school districts to assure a seamless transition for children. Family and community engagement services are provided to assist families in using resources and systems of support to foster life-long learning.
We believe school readiness begins before birth. Therefore, our highly-qualified and nurturing staff provides comprehensive services for prenatal mothers, infants, toddlers, preschoolers, and their families. We strive to enrich families' lives and empower them to advocate for their own families by providing tailored services and collaborating with community partners.
Our approach to child care and preschool education:
The cornerstones of our program include:
An integrated eclectic curriculum
Small group size
Family and community involvement
Emphasis on child health and nutrition
Well trained, caring staff
We offer preschool services in a number of different ways, based upon the needs of the family, the community, and the performance standards established by the federal and state governments. Most of the children we serve attend classes in our centers several times per week. They also receive home visits where the parent participates in instructing the child with the guidance of the teacher. Our centers provide State and Federal certified transportation, nutrition, and health services.
Each classroom is led by a teacher and a classroom aide. Trained volunteers, interns and other adults also help to reduce the adult-to-child ratio. Most activities are carried out with small groups or individual children so that plenty of attention can be given to individual children's learning. Regularly scheduled home visits or parent conferences keep the parents informed and help involve them and other family members in each child's developmental goals.
Throughout the day children work in small groups, in individual settings and with the rest of the class in supervised activities. We feel your child will benefit from both the structured and non-structured learning.
---
Learning:
Our curriculum places priority on a classroom and learning environment that is rich in writing, reading, listening skills, and the use of language. We utilize the Creative Curriculum for infants, toddlers, and preschoolers program wide. The program also utilizes an Eclectic Integrated Approach that recognizes individual variations in children and allows for differences in styles and rates of learning. The curriculum emphasizes that children construct knowledge through a variety of approaches and developmentally appropriate experiences, and places emphasis in all aspects of children's education and well-being including medical, dental, mental health and nutritional development. Individual needs are met through parent engagement, child development plans, screenings, assessments, and observations. Through reflective practices and the use of appropriate guidance techniques, qualified staff empowers children and families to achieve positive outcomes. The Ohio Department of Education Language Arts Curriculum provides the basis for our planning.
---
Our sites are:
Licensed by the Ohio Department of Job and Family Services
Accredited by the National Association for the Education of Young Children
5-Star Rated by the State of Ohio's Step Up to Quality Program. Step Up to Quality is Ohio's quality rating system for Ohio Department of Job and Family Services licensed child care programs. Step Up to Quality recognizes early care and education programs that exceed quality benchmarks over and above Ohio's licensing standards. We are the largest program in the state of Ohio to have all of its sites receive a 5-Star Rating
Lawrence County Early Childhood Academy serves as a lab site for Ohio University Southern and Collins Career Center students.